Street Eats & Crock Spot, Summer Salutes You
Street Eats: What a Grill
So, July 4th weekend is slowly approaching and–if you're like me–thoughts of a three-day weekend filled with camping, sun burns and all those firework ooh's and aah's are already infiltrating your mind as you desperately try to stay focused on the work week at hand. Right?
Well, please allow me to assist in keeping you stuck in summer fantasy land a bit longer. I give you: grilled-pineapple-perfection-fruit-explosion-party-in-my-mouth from Street Eats.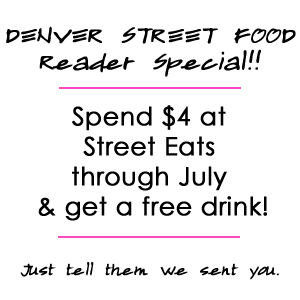 OK, maybe that's not its actual name. And yes, this is the same dessert you've heard Shelly raving about recently. But after somewhat (un)successfully running stairs at Red Rocks one morning last week, taking a leisurely stroll up Dinosaur Ridge and spending a lunch burying my face in this beautifully-grilled dessert concoction during Civic Center Eats, I was convinced I'd invented the perfect Denver day. Rich and his crew at Street Eats also had me convinced their grilled dessert could rival that of many other brick-and-mortar restaurant desserts in this town. Can you see it? That's one huge chunk of pineapple, swathed in an extra special glaze (did someone say rum infused?) and piled with what looks like an entire container of blueberries. The pièce de résistance? It's topped with mascarpone, the triple-rich, deliciously-spreadable cow's milk cheese usually found in tiramisu. I told you a man could find his way to my heart through cheese.
Repeat after me: "I can keep working. I can keep working." Because you know what? You can. Herein lies the beauty of Civic Center Eats. Every Thursday, you can loosen that tie and take a quick lunch break from your downtown desk job to find Street Eats at Civic Center Park. Luckily for you, tomorrow just happens to be Thursday. So get out to the park and grab some grub. Just in case you can't make it out on Thursdays, CCE runs every Tuesday and Thursday with a ton of additional food trucks for your lunchtime fulfillment.
Aaaah, we love you, work week food vacation.
Summer Sustenance at Crock Spot
What's that? You mean I need some tasty nutrition to counter all that dessert-y goodness? Alright, alright. You don't need to tell me twice to hit up more than one food cart on a trip to the park. Enter: Crock Spot. After spending several minutes staring at a menu I could have happily eaten anything off of, I entrusted Stephen and Shaun to fulfill my body's need for slow-cooked healthiness in the form of barley topped with shredded chicken, a red cabbage slaw and a sauce that combines cool sour cream with spicy sriracha.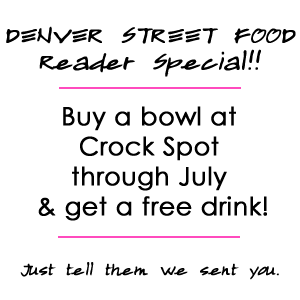 Grains, protein, dairy and veggie? I believe that officially counts as a well-rounded meal. Or, at least I'm counting it as one. I'll forgive Shaun for mocking my frequently-failing attempt at vegetarianism when he heard me opt for the chicken, because this food made me forget all my silly personal shortcomings. It's like a slow-cooked hug: inviting and fulfilling, with the perfect dose of refreshing. I can't wait to try another dish with their brilliant chimichurri sauce. Swoon!
Once again, for good measure, if you haven't made it out to Civic Center Eats yet this year, now is the perfect time. Bask in the warmth of summer and settle down next to another work day vacationer while you strike up a conversation about street food at its finest. Just try your best not to talk with your mouth full. Mom says that's impolite or something.