The Latest on the Great Food Truck Race: Cinco de NoNo, and Shifting Alliances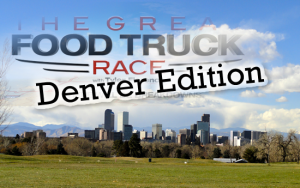 Man am I glad I tossed the words "Rumor" and "Conjecture around a lot in yesterday's post – except those couple of times I used the words "confirmed." I take that back. So, here's the latest that's making its way to our inboxes here at Denver Street Food – and yes, some of it directly contradicts what you read here yesterday.
Cinco de Mayo? The rent is too damned high.
Apparently the incoming vendors can't afford the steep fees associated with Cinco de Mayo. I've heard this before when I've asked why trucks don't hit up the big festivals at Civic Center Park. How in the hell do the taco stands do it?! So from what I can tell, vendors are scattering around the city.  Here's what I know so far:
Seabirds, the all vegan truck that is rumored to be uh-MAZING,  will be at the Horseshoe Craft and Flea Market from 9a-4p Saturday. That's at 46th and Tennyson (map) just across from Berkeley Park. They'll be joined by Basic Kneads, The Cozy Bean, and Deluxe's Little Orange Rocket and I hear they've been in touch with the Watercourse crew about something. Yay!
Later: In the evening, Seabirds will be on Broadway slinging great food at Sweet Action Ice Cream! (map)
Korilla BBQ, which is known to throw a party anywhere they show up, is working with local crockstars The Crock Spot, Street Eats, and Steuben's (no idea if this impacts the earlier news that they'd be working with Hodge Podge). They are apparently still scoping out a location. When I know where, you'll know where – but follow those guys on twitter if you're not already! (links in the sidebar!)
Cafe Con Leche has reached out to Quiero Arepas to buy some PAN  - that crazy cornmeal they use to make their amazing arepas. Apparently, Cafe Con Leche makes something they call a "Curepa"  - a Cuban arepa. No word on if they'll be throwing down anywhere together, but if they do, my money is on Great Divide or Denver Urban Homesteading.
If things haven't changes since yesterday, Hodge Podge will still be at Atomic Cowboy from 4p-9p on Saturday with Steuben's, Biscuit Bus, and The Cupcake Truck. However, none of these guys are commenting on this anywhere that I've seen, so… I'm skeptical. See below.
What about those other guys!?
I haven't seen much incoming news from Hodge Podge, Roxy's Grill, and Lime – three vendors who were the first to reach out to folks here in Denver, and I haven't heard a peep out of Devilicious. I don't know much about the show, but some folks have suggested that maybe one (or more?) of the trucks have been handed unique challenges, specific locations, or specific vendors with which they can work. I have no idea, but when I hear something, you'll hear something.  I do know that Chef Michou of Chicago Louie's is being unusually quiet on the topic, though, and if you know him, that's just weird.
The Moral of the Story: Fire Up Your Twitter Accounts
It's reality TV, right? Twists and turns and all that jazz are exactly what the Food Network wants here, so all trucks are subject to having the rugs pulled out from under them at every step. So, I'll keep posting what I know here, but your best bet is to follow the local vendors that we've been mentioning here, or follow the twitter list we use here at Denver Street Food. That way you'll get up to the minute information from all the vendors as things actually happen this weekend. You can also keep tabs via the #greatfoodtruckrace hashtag on twitter, though many of our local vendors don't seem to be using that yet. Hopefully they will!
All that said, the trucks should have arrived last night or will arrive this morning, so I suspect that news will start flowing soon! Has anyone spotted any trucks yet? Or heard anything else? Let us know what you know in the comments!
Share this!