O(m)G Burger: It's What's For Lunch Today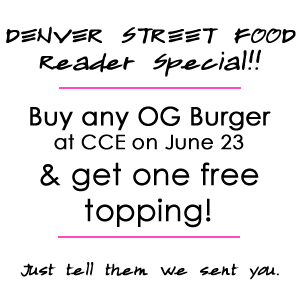 Last Thursday I continued in my attempt to try something new at each Civic Center Eats that I hit up  – at least for as long as I can resist the lure of Manna From Heaven's Banh Mi, which will definitely have me coming back soon. I decided to try the fare from OG Burger's graffiti-covered burger truck (painted by local graffiti art group, 2kool) and, as I wrote in an email to the proprietors after: HOLY CRAP THAT'S A GOOD VEGGIE BURGER!
This ain't your (below) average Garden Burger. Thank god.
My experience with burger joints that offer veg burgers is that they all too often take the easy way out and use the all too bland Garden Burger brand (WHY?!?!) or develop some patty o' beans and grains that just don't hold together or carry much flavor. When I bit into this tasty burger, that stereotype was blown to bits. I had to know more. Turns out the inspiration for the OG veggie burger is the (in)famous gourmet veg burger from Houston's. Famous because it's so damned good; infamous because it's a $14 burger (no, it is not made of gold). When Zach from OG Burger tried Houston's burger, he knew he could emulate the full flavored yum factor of the burger, with a focus on local, fresh ingredients, but at about a third the cost of the original. And how! Five bucks (that's right,  f-i-v-e bucks!) for this lipsmacking pile of deliciousness, plus 50 cents for each of a wide selection of rad toppings (a buck fifty for the top shelf toppings).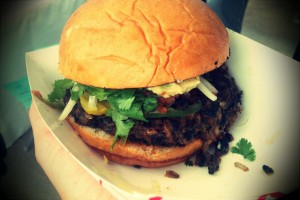 The burger itself is made primarily of organic oats and black beans, with a super secret selection of other ingredients and spices (the patty's vegan, the bun is not, but they'll serve it over lettuce for the vegans!). The toppings include jalapeno, pickles, green chiles, fried eggs, and more. Five homemade burger friendly sauces are on board every day, and can include basil mayo, tzatziki, hummus, and peanut sauce. You can see the full list of potential options on the OG Burger website.  My burger was all tarted up deluxe style – I asked the guys to make me the best veggie burger they could, and I got a colossus of a burger topped with jalapenos, hummus, pickles, lettuce, tomatoes, and more. When the rain came pouring down on Civic Center Park, I headed for cover and listened to a few folks oooh and aaahh over my beautiful burger while we waited out the rain in the Civic Center Conservancy tent. I think it's safe to say my burger was the belle of the ball.
And it's not just the veggie burger
While the veggie burger is what got my attention, talking to a few folks around Civic Center Park assured me that the organic, grass-fed beef (the OG in OG Burger) from eastern Colorado that the hamburgers are made from makes omnivores happy little gluttons, as well. Zack and Gil, the guys on board the OG Truck, are committed to a great food philosophy:
We're striking the perfect chord between super delicious, and not feeling bad later for eating it  Simple food done exceptionally well is the goal.
I can guarantee you I didn't feel bad at all over that burger. And I ate the whole damned thing. I'm angling to get Brandi, one of our resident omnivores, to dig into the beefy options today.
Where to find them
Hit up Civic Center Park today or any given Thursday, from 11-2 to catch these guys flexing their mad burger muscles at Civic Center Eats. If you can't make it to CCE, hit em up on Facebook and give 'em a like, so you can track their whereabouts all week long.