Civic Center Park Is Still the Place To Be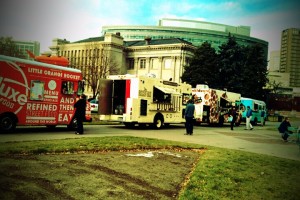 Civic Center Eats was one of the highlights of the summer in this city if you ask me. Street food, sunshine, and some municipal pride all rolled into one great way to spend a Tuesday afternoon. If you didn't know, this is your reminder that a slimmed down version of CCE is still going on at the park every day of the week, weather permitting. The folks who take care of the park have lined up vendors to serve up great lunches every day of the week. Usually there are 3 or 4 trucks around, so it's not the full-scale municipal picnic that CCE was, but the food is still outta this world, the location perfect. And, if you're worried about the weather, you can always get takeout and scurry back to your warm office!
The vendors themselves usually do a pretty good job about updating via Facebook when they're heading down, but the Civic Center Park page on FB is the most reliable source for finding out who's going to be there any given day of the week. The regular schedule is below, though it's always a good idea to check FB if you're banking on seeing any one of the vendors. Flat tires, sick days, and too much wind can change things pretty quickly!