And it ain't just about the food…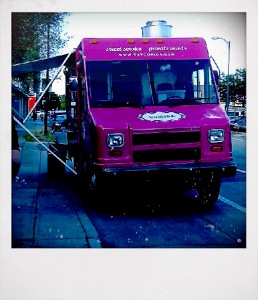 One thing I love about the street food movement here in Denver (and actually around the country) is not just the deliciousness and creativity of the food, but the creativity of the truck design itself.  I think this is a huge part of the appeal of many trucks and for me, nothing says "Try Me!" like some kick ass, eye catching, fun graphic design; be it color, typography, the logo, etc., I love me a great looking truck.
That said, I will occasionally post not just on the food but on the design of the truck itself.  I think it's a really fun aspect of the movement that should be recognized as an art in and of itself along side the food.
So my first post is for Comida, the lovely pink bandit bus from Boulder run by Rayme. I had the pleasure of eating at Comida this evening with the bonus of meeting its graphic designer, Melissa Edwards (have some Lemonade).  Usually I wouldn't think of bright pink as a terribly appetizing color, nor something that says Mexican food, but screw convention! This truck looks terrific and screams at me to come on over and get some eats.
I mean the pink isn't just pink, but rather a yummy, inviting, fun PINK!, like pink for foodies pink.  In addition to the color, I love the clean and elegant logo design. It's crisp, fresh, and modern but at the same time still classic looking. It has a bit of flair, but not too much to distract me from the bigger picture:  the food.
So great job Melissa and Rayme.  Comida looks awesome on the road and the food tastes terrific from the sidewalk!
Cheers
Share this!