Aja To Go – Coming Soon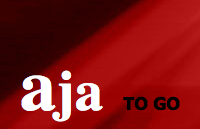 Be on the look out for Aja, a fine addition to Denver's growing street food scene.  We'll post something as soon as we know they've hit the streets.
Share this!
This entry was posted on Friday, August 27th, 2010 at 8:10 am. It is filed under In The Works and tagged with Aja, asian, noodle bowls, sushi. You can follow any responses to this entry through the RSS 2.0 feed.